Do you want this person to become the second highest official of the land?
NOLI "KABAYAD" DE "CASH"TRO UNMASKED!!!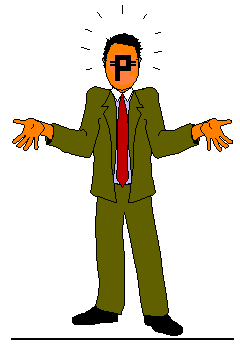 NOLI DE CASTRO has, in the past few years, portrayed himself as every corrupt government officials' nemesis, the defender of the poor and the oppressed and the hope of the exploited and the helpless. Every morning, De Castro is heard over radio DZMM fearlessly lambasting corrupt police officials, taking to task lazy and inefficient government functionaries and exposing exploitative and oppressive private individuals and Big Business. His exposes continue on ABS-CBN Broadcasting Corporation's primetime television news, TV PATROL and the once-a-week news magazine program, MAGANDANG GABI, BAYAN. In the process, De Castro has managed to cultivate an image of "MR. CLEAN." Indeed, he has become everybody's KABAYAN.
BUT THE SIXTY MILLION DOLLAR QUESTION IS: IS NOLI DE CASTRO FOR REAL?
To the hordes of uninformed and unsuspecting radio listeners and television viewers, BE WARNED!!!
The "MR. CLEAN" NOLI DE CASTRO you have been admiring for his fearless commentaries and exposes against graft and corruption IS A FAKE!!! IN REALITY, his name is synonymous to NOLI DE "CASH"TRO and he is derisively called "KA BAYAD" by those who have fallen prey to his black-mailing tactics in the guise of public service. The hard-hitting commentaries, the fearless exposes and all the other noise and chest-beating by De Castro purportedly against graft and corruption are all in fact mere CHARADES….. SCRIPTED DRAMAS….. and PALABAS…. with the end view of harassing and shaking down their targets to come across with the amount demanded OR ELSE the "fearless commentaries and stinging criticisms" will not stop. Even MGB, the highly-acclaimed weekly news magazine TV program, has been derided as MAGANDANG GABI, BAYAD!
NOLI DE CASTRO, THE DEFENDER OF THE POOR AND THE OPPRESSED, IS AGAIN A FAKE!!! IN REALITY, his "crusades" for the poor are just fronts of the whole money-making venture he is engaged in through what is known in the media as AC-DC. In the guise of taking the cause of the poor and the oppressed, De Castro then "Attacks or Defends" his targets – be they government officials, police officers, contractors, vice lords, gambling lords and individuals. In either case, De Castro collects piles of money from his preys.
AS HOPE OF THE EXPLOITED AND THE HELPLESS, AGAIN NOLI DE CASTRO IS NOT. For what can be expected from a man who is judged by his peers and colleagues in the industry to be the MOST CORRUPT broadcaster alive. This is most obvious in the area of PR and Crisis Management work where De Castro has no qualms using MGB, TV PATROL and his KABAYAN radio program over DZMM to shakedown and harass targeted government officials and private individuals to further enrich himself.
But what puzzles most of the people in and out of media, is how come the top management of ABS-CBN Broadcasting Corporation has chosen to look the other way amidst many reports from A-1 sources about De Castro's unethical, even criminal money-making activities? How come the management of ASIA'S MOST ADMIRED NETWORK refused to even just investigate the A-1 reports even for the sake of knowing the truth and the veracity of its sources? How can it continue to claim as its network's motto "In the Service of the Filipino" when management itself has remained deaf and mute to NOLI DE CASTRO'S corrupt journalistic practices, clearly a disservice to the Filipino people? YOUR GUESS IS AS GOOD AS ANYBODY.
NOLI DE CASTRO'S CHOP-CHOP DAYS AND OTHER EARLY CORRUPT ACTIVITIES
In 1987, De Castro, an upstart broadcaster at that time, was tagged as one of those directly involved or giving protection to smugglers in the Bureau of Customs who were bringing in Completely Knocked Down (CKD) but highly-dutiable luxury vehicles in what is now the infamous Chop-Chop Controversy. In exchange for lending his supposedly untouchable and feared name, NOLI DE CASTRO was gifted with an L-300 Van by the smuggling syndicate. When his involvement was exposed in the media, NOLI DE CASTRO tried to explain himself by claiming that he was just a buyer (of the smuggled luxury utility vehicles). But informed sources in the Customs confirmed that NOLI DE CASTRO was indeed involved (either directly or indirectly, it was not sure) in the smuggling attempt and that the L-300 Van was a payment for the services (whatever it was) he rendered to the syndicate. Fearful that the controversy may cut short his budding broadcasting career at ABS-CBN, and to avoid further public ridicule, NOLI BOY sold the Van and used the proceeds (still the fruit from an illegal activity) to buy a red Nissan Pathfinder.
Also, at the time when NOLI DE CASTRO was still making a name for himself in the broadcast industry, San Pablo City (Laguna) Mayor Vic Amante, Southern Tagalog Jeepney magnate and one of the region's biggest illegal logging and quarrying operators, BRIBED KABAYAN NOLI with several hectares of prime agricultural land. In exchange, NOLI "MR. CLEAN" DE CASTRO must, in the first several days upon his acceptance of the "gift," get and air the side of Mayor Amante when KABAYAN'S topic concerns the illegal logging and quarrying activities in the Southern Tagalog region. The Mayor hoped that his explanations on air will help put the issue to rest. As part of the whole deal, when the issue had quieted down, KABAYAN NOLI must refrain from ever exposing and criticizing Mayor Amante's illegal activities. Even CPP's Ka Roger and the late Ka Hector Mabilangan know about this whole rotten deal. Six months later, MR. CLEAN sold Mayor Amante's "gift" to a buyer.
BLACKMAIL is another favorite tactic employed by NOLI DE CASTRO to get his share of the pie from government contracts. One of his victims was the venerable FF Cruz whose construction firm was awarded to build the KAMUNING Fly-Over. During its construction, MR. CLEAN NOLI DE CASTRO mounted daily attacks on his radio program against FF Cruz for its alleged defective construction of the fly-over. NOLI BOY pointed to alleged unsound structural design and poor construction methods. But while NOLI BOY was waging his public battle on air against FF Cruz's alleged failure to comply to sound engineering standards, NOLI "MR. CLEAN" DE CASTRO had privately sent emissaries from the staff of MGB to FF Cruz. NOLI was demanding P500,000.00 from the firm in exchange for his silence. The issue was "settled" for a lesser amount. Let us not be surprised then, why MR. DE CASTRO THE CRUSADER would not touch any issue concerning fly-overs especially those constructed by FF Cruz.
Before he made a name for himself, when he was still the private valet and butler of ROD NAVARRO, MR. DE CASTRO used to live in a modest house in Lagro, Quezon City, now occupied by his sister and brother-in-law. Only months after he came to ABS-CBN, MR. DE CASTRO was able to acquire a twin townhouse in ROMAROSA TOWNHOMES. Then, with bank accounts bulging with money from his illegal connections in Southern Tagalog, particularly from his patron Mayor Amante, NOLI THE DEFENDER OF THE POOR, was able to acquire a new multi-million peso house in Tierra Pura bought from a retired military general who was also a friend of Mayor Amante. This general was Amante's protector in the latter's illegal logging and quarrying operations in Laguna and Quezon provinces. Again, MR. CLEAN NOLI DE CASTRO got the house at a bargain price with the help of Mayor Amante. The deal? NOLI BOY'S continued silence concerning the Mayor's illegal activities in the Southern Tagalog and the Bicol region. And how about the large FARM property he's got in San Jose Del Monte in Bulacan? What rotten deal (through bribery or blackmail perhaps) did he get into this time?
"MR. CLEAN" DE "CASH"TRO'S CORRUPT PRACTICES CONTINUE

Noli de Castro
ABS-CBN's highest paid anchorman.


SEGMENT FOR SALE….. INTERVIEW FOR A PRICE….. GRACE MAGUAN, the sister of ELDON, ROLITO GO'S murder victim, was asked to pay P200,000.00 so that she will be interviewed on MGB and ASSIGNMENT. This was the time when GO was in hiding and media was losing interest in ELDON'S case. MS. MAGUAN intimated this "interview cost" to LOREN LEGARDA when she sought her for an INSIDE STORY interview. LOREN could only drop her jaw in disbelief.

Big real estate companies like FIL-INVEST and FIL-ESTATE have also BRIBED "MR. CLEAN" DE CASTRO with "choice properties" at give-away prices in exchange for MR. DE CASTRO'S silence concerning the real estate giants' controversial projects such as the FIL-INVEST QUARRYING in San Mateo, Rizal, and FIL-ESTATE'S very controversial Blue Waters and Fairways project in Boracay Island in Panay and another golf course project in Nasugbu, Batangas.

When you believe that MR. DE CASTRO IS THE DEFENDER OF THE POOR AND THE OPPRESSED, THEN YOU ARE DEAD WRONG!!! He exploits them to suit his personal agenda. Complainants against big companies are A-1 materials. When they come to him for redress, MR. DE CASTRO uses them as leverage to force subject companies to settle to his personal demands such as FRANCHISES at give-away prices. That is why MR. DE CASTRO loses no opportunity to hit hard at JOLLIBEE and MACDONALDS – and this is no secret among the directors and officers of the two hamburger giants – so that he can have a franchise from these two at give-away prices.

Another case involves a buyer of a condominium unit in Makati who complained to MR. DE CASTRO about the substandard materials that were being used by the property owner/developer in constructing the said condominium. After only a few short airtime on his radio program, MR. DE CASTRO lost interest in pursuing the complaints against the developer. It was learned that NOLI BOY accepted a "GIFT" of one condominium unit located in another part of town given by the subject owner/developer.

Another seemingly untouchable firm is the ASIAN ALCOHOL FERMENTATION PLANT in Pampanga. It was the subject of numerous DENR closure orders for polluting the Apalit River and blatantly violating environmental laws. And the daily barrage of reports on radio DZMM and TV PATROL and the in-depth reports on MGB and ASSIGNMENT could have helped closed the polluting alcohol plant permanently. But very suddenly, the reports stopped and MR. DE CASTRO was once again abruptly silent on the issue, the very same issue he was so hot about the previous days. Informed sources however, said there were millions of reasons why MR. DE CASTRO was suddenly mum on the issue.

Mon Tulfo
Columnist of Philippine Daily Inquirer.


And how hot was NOLI BOY on the issue involving the proposed sale to the EVER GOTESCO group of a prime government lot by the Kalookan City government for a measly P10,000.00 per square meter? HE IS VERY HOT!!! And MR. DE CASTRO loses no opportunity to hit hard against EVER GOTESCO and the ORIENT BANK because the EVER GOTESCO group did not agree to his demand of tens of millions of pesos in exchange for his silence on the issue. What the EVER GOTESCO group has offered to MR. CLEAN for him to stop his attacks on the proposed sale during a meeting at Melo's Restaurant in front of ABS-CBN was only less than P10-M, which NOLI BOY found too small and unacceptable. The said meeting was also attended by Inquirer columnist RAMON TULFO.

Further, MR. DE CASTRO has cashed in on the following cases by killing these stories:

-

Andres Tenement Houses along the South Super HighWay in Manila.

And how cold is NOLI BOY on the many issues against LUCIO TAN? COLD. Indeed, NOLI BOY IS DEAD COLD. He hasn't even tried even to direct small pot shots against the taipan who is accused of evading payment of taxes to the tune of P 25-B. Even the highly-irregular deal between LUCIO TAN'S Philippine Airlines and the government in the NAIA Terminal II, had received nary a comment from DZMM's fearless commentator.

THE REASONS: Material and financial favors were granted to MR. CLEAN NOLI DE CASTRO by MR. TAN through one of his minions, a certain MR. BACSAL. A new KIA PREGIO was said to have been "acquired" by MR. DE CASTRO at almost the same time that he met with MR. BACSAL. Informed sources from BACSAL'S group also said his sizeable FARM in San Jose Del Monte, Bulacan, was formerly owned not too long ago, by no less than their KAPITAN. Residents around the FARM also confirmed this that indeed LUCIO TAN, THE TAIPAN was the immediate past owner of the property which is now titled in the name of NOLI AND ARLENE DE CASTRO!!!

"MR. CLEAN" MAKES DIRTY MILLIONS DURING ELECTIONS

Elections are golden harvest time for the likes of "KA BAYAD" NOLI DE CASTRO.

In 1992, Presidential candidates RAMON MITRA, FIDEL RAMOS, EDUARDO COJUANGCO, MIRIAM SANTIAGO and other wannabes, each paid P 200,000.00 for a one-on-one interview with MR. CLEAN himself and featured full length in his weekly program MAGANDANG GABI, BAYAN. The amount is ostensibly a donation for NOLI THE DEFENDER OF THE POOR DE CASTRO'S "pet projects for the needy" in his hometown in Mindoro.

In 1998, MR. CLEAN once again made a killing from the gullible presidential candidates. This time though, "KA BAYAD" NOLI did not ask for donations for his "pet projects" which is a pittance. Instead, MR. DE "CASH"TRO SOLD HIS SOUL to his favorite candidate, GEN. RENATO DE VILLA for P 3-M. The money was delivered to him by a trusted henchman of the AYALAS. The same AYALA henchman, a PR man, was lent by the AYALAS to the DE VILLA camp to help manage its media bureau during the campaign period.

But GREED has apparently overtaken MR. DE CASTRO'S sound judgement and so, not content with the P 3-M he got for selling his soul to DE VILLA, "KA BAYAD" threw HONOR away into the air and TRIED TO PEDDLE HIS SOUL (the very same soul he sold to DE VILLA) to the LAKAS PARTY for P 10-M. Realizing maybe that his WORD OF HONOR is not as honorable because of his own double dealing with the DE VILLA camp, MR. DE "CASH"TRO settled for P 3-M in exchange for his half-a-soul commitment to also support Presidential Candidate JOSE DE VENECIA. This fact, MR. CLEAN cannot deny, since the money was delivered to him by no less than Former Press Secretary and now LAKAS spokesperson ANNABELLE ABAYA and former DZMM colleague MARIO GARCIA.

The P 3-M "KA BAYAD" had received from LAKAS was over and above the more than P 2-M he received from an ABS-CBN colleague and fellow anchor who doubled as DE VENECIA'S PR man. The amount was reported by the anchor cum PR man to MS. GINA DE VENECIA as NOLI BOY'S share in the media payroll of ABS-CBN officers.

The most recent report of NOLI BOY'S extortion activities involves one of the mayoral candidates in Pasay City's forthcoming recall elections.

Vice Mayor Peewee Trinidad who is running for mayor in the recall elections was reportedly approached by emissaries from MGB and was asked to shell out P 100,000 so that he will not be bothered by negative reports from "KA BAYAD'S" morning radio program.

It is not known however if other mayoralty candidates have also been approached.

P 3-M BUNNY GERMAN JUNKET IN THAILAND

Another instance that MR. CLEAN made a pile of money in the guise of conducting exclusive interviews was the case of MS. BUNNY GERMAN, the pyramiding wife of erstwhile ERAP publicist RELI GERMAN.

No less than ATO ANG, a known ERAP henchman, who went about town bragging to those who care to listen that he gave "KA BAYAD" the dollar equivalent of P 3-M for his "efforts" in going to Bangkok, Thailand where he conducted an exclusive interview with MS. BUNNY GERMAN for her side of the pyramid scam and in the process, protect the FIRST LADY, an alleged victim of the scam, by excluding her from any involvement in the scam. The catch is to portray the FIRST LADY as a victim instead. According to ATO ANG, NOLI BOY immediately deposited the amount to his secret dollar account in Hong Kong. ATO ANG added that it was he who arranged everything for NOLI BOY'S trip, including airfare, accommodation and pocket money.

MR. CLEAN NOLI DE CASTRO'S ILLEGAL GAMBLING CONNECTIONS

TELEVISION NEWS' MR. CLEAN FORMS UNHOLY ALLIANCE WITH THE COUNTRY'S ACKNOWLEDGED JUETENG KING!!!

PINEDA – DE CASTRO TANDEM ESTABLISHES BIGGEST ILLEGAL GAMBLING OPERATIONS IN SOUTHERN TAGALOG!!!

DE CASTRO REIGNS SUPREME IN THE ISLAND OF MINDORO; JUETENG OPERATIONS HAVE BECOME UNTOUCHABLE!!!

There was a time when the jueteng fiefdom of BONG PINEDA, easily the country's most controversial gambling lord, was restricted to the six provinces in Central Luzon. At that time, with PINEDA'S many political patrons and police protectors, he need not fear the likes of an upstart broadcaster named NOLI DE CASTRO. At most, MR. DE CASTRO'S commentaries on illegal gambling barely made a dent on PINEDA'S phalanx of protectors. But then, PINEDA, through sound judgement or pure luck, didn't totally ignore MR. DE CASTRO, whom he considered a minor irritant but still someone to be taken cared of – just in case he needed his services in the future. Soon, "SMALL CHANGE" regularly found its way to the pockets of MR. DE CASTRO. The die has been cast.

In 1992, then President Fidel Ramos ordered a crackdown against private armed groups, majority of which were being maintained by gambling lords, following the involvement of former Calauan Mayor Antonio Sanchez and his armed goons in the rape and double murder of UP students Aileen Sarmenta and Allan Gomez. PINEDA became a natural target.

By this time, the now very famous and influential MR. DE CASTRO had PINEDA in the palm of his hand. The BENEFACTOR-BENEFICIARY relationship soon became a PARTNERSHIP with PINEDA as the financier/gambling operator and DE CASTRO as his protector/business partner.

With SANCHEZ in jail, his once solid illegal gambling machinery in Southern Tagalog has been fragmented. Bit players tried to cash in with the vacuum left by SANCHEZ'S group.

Encouraged by NOLI BOY, PINEDA lost no time to set-up his own jueteng operation in Southern Luzon, including in the two Mindoro provinces, MR. DE CASTRO'S natural power base. THERE, NOLI DE CASTRO, MEDIA'S MR. CLEAN WOULD REIGN SUPREME over the illegal numbers game operation.

To further consolidate his hold on the jueteng operations in Mindoro, NOLI BOY lost no time to call the then just appointed (just a few minutes after it was announced) PNP Chief, GEN. PANFILO LACSON, and requested that the GENERAL appoint his (NOLI'S) recommendees as police provincial directors of the two Mindoro provinces. These are Superintendents RAJACA KOIANDO and NAPOLEON CACHUELA. NOLI BOY expects the two police officers to protect his illegal gambling operations from harassment.

Ted Failon
Erstwhile protégé
of De Castro.


There were also reports that erstwhile NOLI protégé TED FAILON became a beneficiary of PINEDA'S generosity. Informed sources revealed that FAILON bought his BMW in 1998 with COLD CASH courtesy of MR. PINEDA. Sales representatives of the BMW dealership and some clients present at the time, have confirmed the reports.

THE DE CASTROS' USAPANG BUSINESS

NEWS AND CURRENT AFFAIRS' PRINCESS TARHATA: "NOTHING HERE"

NOLI DE CASTRO'S wife, MS. ARLENE FATIMA SINSUAT DE CASTRO was appointed to various powerful positions in the Current Affairs department ONLY AND ONLY, to accommodate the fair-haired boy of TV News. Frankly, MS. DE CASTRO a.k.a. "PRINCESS TARHATA" has long been the object of top management's derision for her thick-skinned temerity to demand for higher positions when in fact she is devoid of any qualifications to deserve her various appointments. EXCEPT of course, that she is presently NOLI DE CASTRO'S wife, his second in fact. On the other hand, NOLI is ARLENE'S THIRD HUSBAND, not counting the past dalliances she had with other men like FLORENTINO DAUZ of the Bureau of Broadcast – PTV – 4.

When a colleague, a senior manager was promoted Director to head one of NCA's units, MS. DE CASTRO, then Director for Current Affairs, unashamedly twisted the hands of top management to appoint her AVP for Current Affairs, a non-existent position because she cannot, in conscience (whatever that means) accept that she is now of equal rank with a former underling. Again, because of NOLI BOY, top management relented.

Then again, when the former underling-Director was appointed AVP for a newly consolidated division and another colleague was designated managing director of an ABS-CBN subsidiary with a rank of Vice President, PRINCESS TARHATA, then an AVP once again used her husband NOLI'S influence with top management to have herself appointed VP for Current Affairs. When management balked, she filed a leave of absence feigning sickness. All the while, NOLI BOY pressured management to relent to his wife's request saying that she is very sick because of the problems in the work place. Management finally relented.

PRINCESS TARHATA: THE CORRUPTION ACCOMPLICE

As Vice President for Current Affairs, PRINCESS TARHATA has gained complete control of THE CORRESPONDENT, ASSIGNMENT, F, PIPOL, LOREN, PINOY EXPOSED and KNOWLEDGE POWER. She has also at her complete disposal her family's line-produced program, MAGANDANG GABI, BAYAN.

Just like in the defunct THE INSIDE STORY, USAPANG BUSINESS and COMPANERO Y COMPANERA, MS. DE CASTRO continues to "dictate" the topics to be aired in these programs and keep them attuned with their money-making activities. There were numerous instances when MS. LOREN LEGARDA was instructed to change her topics on THE INSIDE STORY, for various reasons. LOREN, unaware of the DE CASTRO operations, relented. A case in point is the GRACE MAGUAN interview that MS. DE CASTRO de-listed from THE INSIDE STORY line-up. THE REASON: PRINCESS TARHATA has wanted the MAGUANS to pay P200,000 for the interview just like what they have demanded from GRACE when she had her interview in MGB and ASSIGNMENT. The thing was, GRACE had already intimated to LOREN MGB'S and ASSIGNMENT'S monetary demand and ARLENE was preempted by LOREN who made it clear to the MAGUANS that she was not charging them a single centavo for the interview.

This corruption-driven "censorship" was also experienced by GEL SANTOS RELOS, CATHY YAP and CES DRILON in the heat of her JOLLIBEE snafu.

GABBY'S MOTHER-IN-LAW GETS A TASTE OF THE DE CASTRO CORRUPT OPERATIONS

In another instance, MS. BARBARA GONZALES, mother of PANJEE GONZALES, GABBY LOPEZ'S second wife, has a story to tell on the corruption going on in the Current Affairs department. During the last presidential elections campaign, TWEETUMS GONZALES, who was president of J. Romero Advertising Agency, a leading advertising agency in the country, was informed that an emissary of MS. ARLENE DE CASTRO was asking for money in order to guest then Senatorial candidate ROBERT JAWORSKI in MGB and other Current Affairs programs. The emissary turned out to be JAMES ONG, then a news writer of THE WORLD TONIGHT. ONG, an alleged hatchet man of the DE CASTRO'S money-making operations, claimed that he was sent by MS. DE CASTRO precisely to deliver that proposal to JAWORSKI. MS. GONZALES, being the president of a big advertising agency, was very much peeved by this apparent brazen act of corruption perpetrated by Current Affairs officials of the MOST ADMIRED NETWORK IN ASIA. Her daughter, PANJEE is married to no less than the Chairman of ABS-CBN GABBY LOPEZ. When top management learned of this scandalous operation, Company President FREDDIE GARCIA ordered ONG to be fired. But until now ONG is still very much employed in the News Department and maybe without GABBY and FREDDIE'S knowledge that their order to fire ONG was never followed. AND MAYBE, JUST MAYBE, ONG is still doing "errands" for the DE CASTROS.

For sure, ONG is being protected by MS. DE CASTRO for fear that ONG might tell on her extortion and other illegal activities.

Then, how come that ABS-CBN management is powerless to move against MS. DE CASTRO and even her lowly hatchet man, JAMES ONG? WHY THE DOUBLE STANDARD?

By: Bantay Media

12 April 2000

From the mail:

"Magandang Gabi Bayan" picked the story up, however, and it was reported with prejudice against the banks. The following day, word was sent to my friend's office that for P500,000, MGB was willing to present the banks' side of the story.

We were shocked! Of course, it wasn't Noli de Castro himself who tried to negotiate with my friend's office, but it was obvious that he had a hand in this...

- VVe....@aol.com